MetaData Mover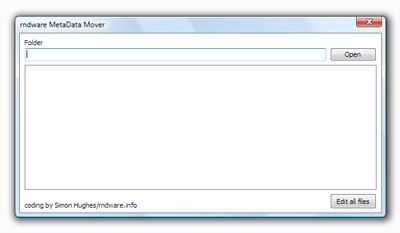 Doesn't your mp4 file stream properly over the Internet? Does the mp4 need to download completely before playing in a Flash player? rndware's Metadata Mover moves metadata from the end to the beginning of mp4 files. This allows any mp4 file to be streamed using Flash players, without needing to load the entire movie. Some mp4 encoders like the one in Adobe Premiere Pro will export an mp4 file with the metadata at the end of the file. This will make the file unstreamable, but MetaData Mover fixes that in a few seconds.
Download
Mirror 1 (Local) Download
Mirror 2 (Google) Download
Frequently Asked Questions
Q: I used your tool on my file. Now it works, but I can't skip in it. (Not actually a question, but still) 
A: There could be several reasons for this:
1) Your webserver does not allow skipping. A webserver like Lighttpd might fix this for you.
2) The Flash-based player is bad, and doesn't support skipping. Go with JW Player.
3) Your files might be incompatible, and there's nothing I can do for you.
Q: Some files stop working after being processed by MetaData Mover.
A: They're badly encoded. Encode these files again or try another tool.
Q: Your tool requires administrator access. I don't like that.
A: For this tool to work, I embedded some files into the .exe. Due to the limitations of Vista, you have to require admin access for this to work. Of course I'm not installing spyware on your computer.
Q: I want a server-side solution.
A: mp4box.exe
Q: Can I distribute this application to my clients?
A: No. Please just link to this page.
Reviews
Google rndware+mp4 to get some more responses from people.
"This program is really easy to use, and works extremely fast"
"this is the perfect little program, and it's free"
Version history
0.9 First Public Release