ProSnooper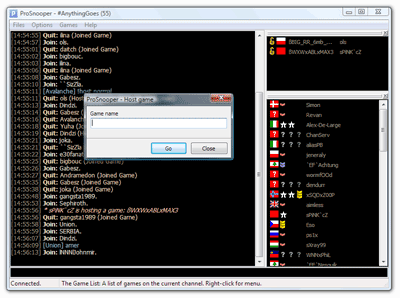 ProSnooper is a program for the computer game Worms: Armageddon. It allows anyone to connect to the "Wormnet" game servers to chat, join and host games.
In other words, it acts as a frontend for Worms: Armageddon online play allowing a user to quickly launch ProSnooper to chat and join games without launching the full-screen game menu.
ProSnooper even supports minimizing, thereby being able to minimize ProSnooper when doing something else or logging messages while you are away. ProSnooper includes a message log that records private messages and highlights, other users typing your name.
ProSnooper is only available with Worms: Armageddon. Unfortunately, the Worms World Party protocol is encrypted and thereby letting out ProSnooper.
Features
Join and host games

Chat on Wormnet

Change flag and rank

A "buddylist" that allows you to keep track of your friends and notifies you when they join Wormnet.

Notification when someone messages you or says your nickname (highlighting)

Minimizes to tray

Very customizable display
New version
ProSnooper can still be downloaded from this site, but a new, promising, user-contributed version is under development at SourceForge. You may wish to use that instead; the version here hasn't been updated since 2007.
Go to the ProSnooper 2.2.x site.
Download
Latest version: ProSnooper 2.0.0 build 201: Download
Latest version: ProSnooper Lite 1.0 (beta): Download
Source Code (2.0.0 build 202): Download
Source Code (2.0.0 build 201): Download
License
ProSnooper is released under the following license.
1. Permission is hereby granted to use, copy, modify and/or distribute this package, provided that:
a) copyright notices are retained unchanged,
b) any distribution of this package, whether modified or not, includes this license text,
c) in public, modified packages, the source-code is available.
2. Permission is hereby also granted to distribute binary programs which depend on this package. If the binary program depends on a modified version of this package, you are encouraged to publicly release the modified version of this package.
THIS PACKAGE IS PROVIDED "AS IS" AND WITHOUT WARRANTY. ANY EXPRESS OR IMPLIED WARRANTIES, INCLUDING, BUT NOT LIMITED TO, THE IMPLIED WARRANTIES OF MERCHANTABILITY AND FITNESS FOR A PARTICULAR PURPOSE ARE DISCLAIMED. IN NO EVENT SHALL THE AUTHORS BE LIABLE TO ANY PARTY FOR ANY DIRECT, INDIRECT, INCIDENTAL, SPECIAL, EXEMPLARY, OR CONSEQUENTIAL DAMAGES ARISING IN ANY WAY OUT OF THE USE OF THIS PACKAGE
ProSnooper Lite is released under public domain.