Windows Ident Server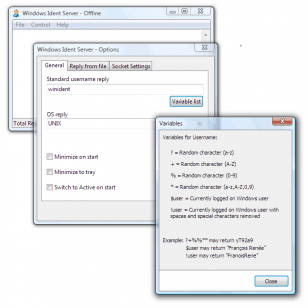 Windows Ident Server is a stable, easy-to-setup IDENT server for Windows.
The IDENT protocol is used primarily within FTP and IRC networks as an authentication method. Windows Ident Server handles IPv6 connections. Also, Windows Ident Server can be installed as a service.
Includes support for rndware psyBNC Server.
Windows Ident Server is compatible with Windows XP, 2003, Vista, Server 2008. Windows Ident Server is not compatible with Windows 2000 or earlier.
IDENT server for FTP, IRC and more.
Get IDENT reply by currently logged on user.
Get IDENT reply from text file
Get IDENT reply from psyBNC on Windows (requires rndware psyBNC server)
Random replies (variable for each random letter)
Many more features
Download
Direct Link: Windows Ident Server 2.0.
Installing Windows Ident Server and psyBNC
Version History
New in version 2.0:
Full Vista, Server 2008 support
Memory leaks fixed
New variables (current logged on Windows User)
New service name (WinIdentSvc)
Documentation updates
Reviews
"I use it on Vista and can confirm that it runs both as an application in your systray (handy!), or as a system service (doubly handy!)"
About the IDENT protocol
A detailed article explaining the uses of the IDENT protocol. (external link)