rndNoter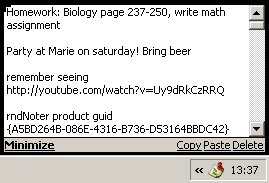 Lots of people are familiar with this scenario: You have some information you need to write down, fast.
rndNoter places an icon in the system tray. When you click it (or press a keyboard shortcut), a mini notepad pops up instantly. When you hide rndNoter, it saves the content automatically.
Use rndNoter to write down those odd bits of information during the day.
Also, you can use rndNoter to remember passwords, links, emails, contacts. rndNoter is always ready to use in the system tray, and uses less than 1mb of RAM.
rndNoter is compatible with Windows 98/ME, NT, 2000, XP, 2003 and with some incompatibilities, Windows Vista and Windows 7.
Features
Ability to enter notes, links, texts quickly and easily.
Very small memory footprint.
Select rndNoter to start when you log on to Windows.
Custom-defined OS-wide hotkeys for triggering rndNoter.
Personalize rndNoter. You can change fonts and colors.
Download
Download rndNoter 1.0.2 (installation).
Download rndNoter 1.0.2 (zip file).
This Zip version is handy for USB disks.
Reviews
"This is the most useful program I've found for ages and it's extremely simple: rndNoter - it sits in the tray and with a single click (or keystroke, customisable) a small notepad pops up in the corner for you to jot something down. Press escape and it disappears again with the text automatically saved. 

Great thing is that it's absolutely instantaneous - the only thing I've found that can do this. I use it twenty times a day to jot down odd thoughts I would otherwise lose, later transferring them to my journal proper. Highly recommended. ~ forum user 'fed'
Version history
1.0.2 January 13, 2007
Resize Handle
Various small additions, bug fixes and user requests
1.0.1 October 8, 2006
System-wide hotkey support
Change background color
Version checker
Minor fixes

Fixed Mouse-in-window cursor bug
Fixed Other minor bugs

Revamped GUI design of rndNoter
1.0.0